Woodland Woodturning
Woodland, PA USA
Wooden Urns
These handcrafted wooden Urns are made by Gaius Hanawalt from Woodland, PA.
---
This Urn is made from Curly Maple from Clearfield County, PA., and Bloodwood from South America.
The lid separates from the body right above the top red ring. (above the ovals)

"Redeye"
Sold 7/09
Maple and Bloodwood.
---
Curly Maple And Bloodwood with Turquoise
Baby Blues
---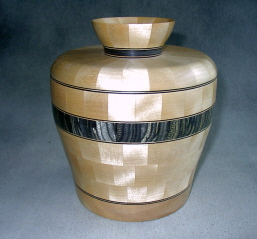 "Black Urn"
Birch and Laminate
Sold
---